Spreading happiness & sunshine through Lincoln with delicious cookies & cheerful interactions.
At Sunflower House Cookies we believe in making an impression. We didn't choose the cookie life – we bake these cookies because they demand to be shared with others. We delight in brightening up your day by bringing a box of cookies to your door, and we never tire of hearing how much they are enjoyed.
The world will always need a little more happiness and sunshine – and we're happy to do our part in delivering joy through cookies.
Meet Stacy Tamerius, Owner of Sunflower House Cookies
I am committed to spreading joy throughout the community by delivering cookies that leave an impression. I'm the head baker, flavor developer, and dreamer – and constantly thinking about where to take this business next.
I have been baking since I was old enough to stand on a chair hold a spoon – and my mom has the pictures & home videos to prove it! I would have never in my wildest dreams believed when I first made this old family recipe in my first apartment that I would one day turn it into a full-time business – but I wouldn't have it any other way!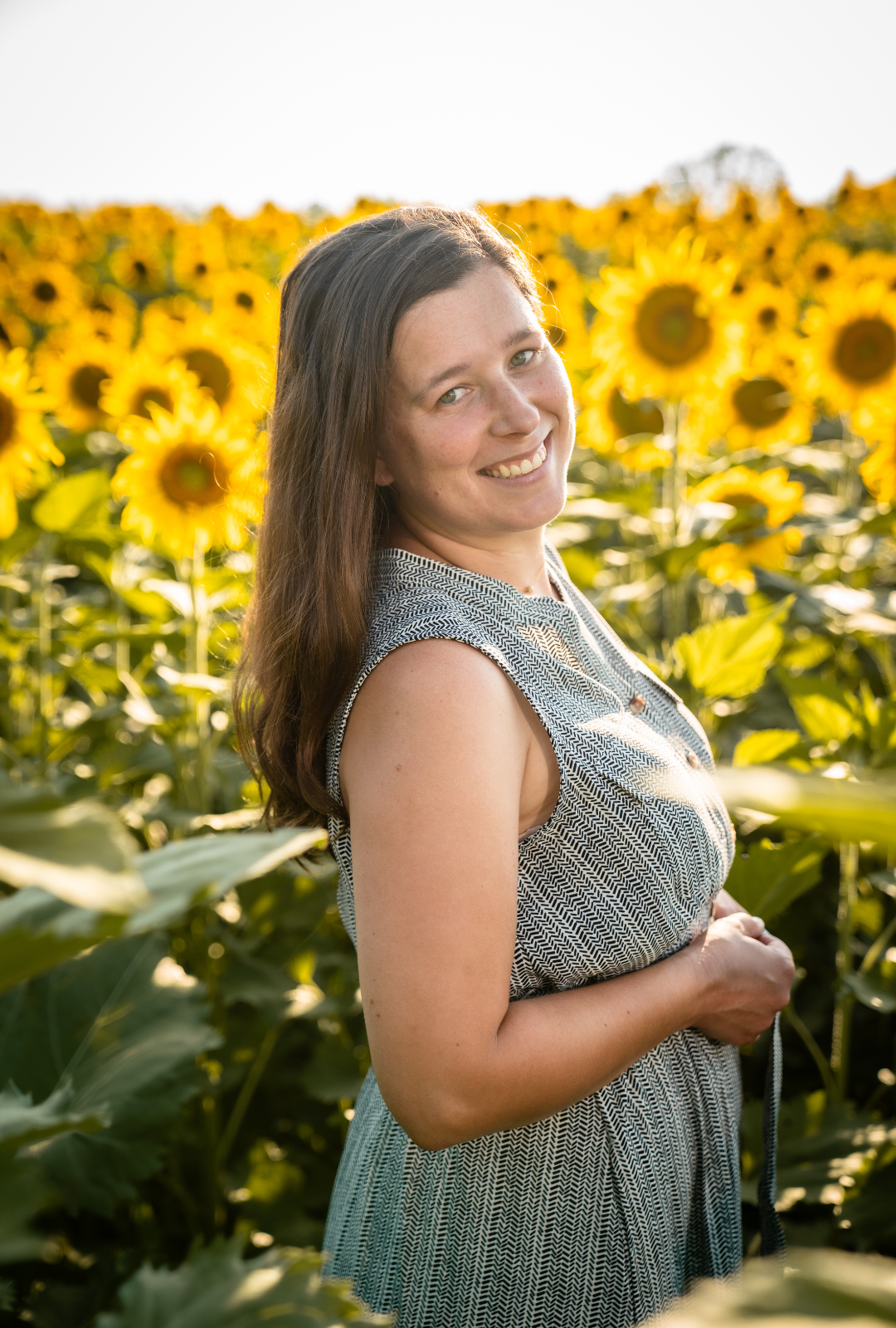 Why do we call her Sunflower House?
One of the questions we get asked most often is "Why do you call it Sunflower House Cookies?" No, it's not because we use Sunflower Oil, or any other sunflower based ingredients – but it IS kind of a cute story.
When I moved into my house in the Summer of 2020 there were TONS of sunflowers all over the yard. Both the front and back yard were incredibly overgrown and needed a ton of work, but the sunflowers were everywhere... and very cool.
When my cousin walked into visit for the first time, she handed me a metal sunflower yard decor and said "I'm naming your house Sunflower House, I hope you don't mind!" And I was like... "I kinda love that!"
So, while we have cleaned up the yard quite a bit from what was here when I first moved in, to my relief, the sunflowers still come back every. year. They are HUGE and wild and do what they want (a little like someone else I know). But I look forward to them every summer now.
When it was time to name this cookie business that I was starting out of my new kitchen in my new house, I settled on "Sunflower House Cookies". Even though, we've now outgrown that little kitchen – I think it still seems like a perfect fit for this business we're building – and the freedom, happiness & sunshine it has brought to my life, while forever reminding us of our roots.
i know you're ready to order some cookies...