Ordering Cookies for Graduations, Weddings, and other Large Events
Use this form to place your order for any large events. See instructions below the form. If you have any questions, special requests, or would like to schedule a tasting, email stacy@sunflowerhousecookies.com for assistance.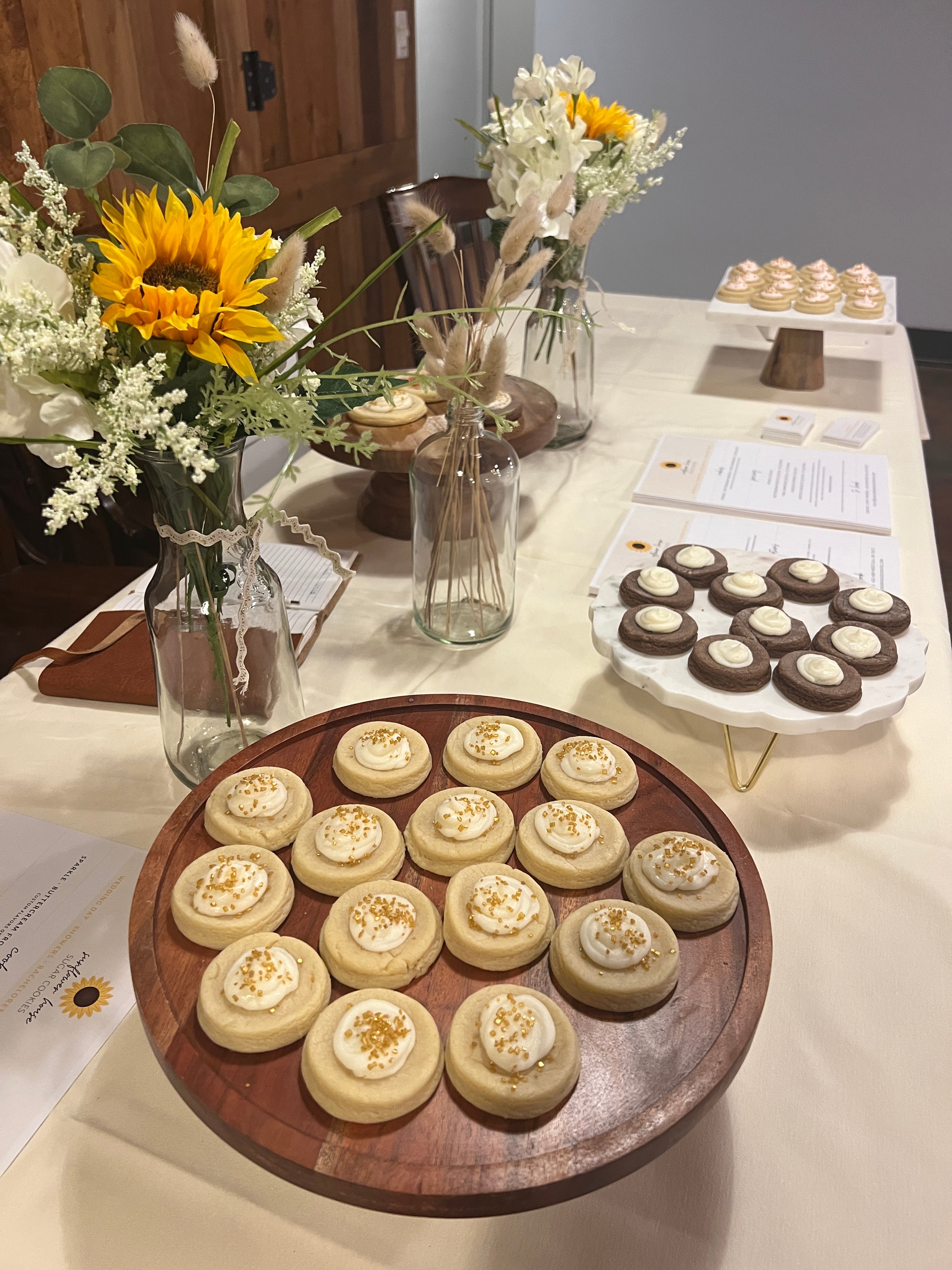 Special Event Cookies (for Weddings, Graduation, etc)
Instructions for the Order Form Above
Note: A minimum of 36 will be required for each flavor/size.
Sparkle
Chocolate Sparkle
Buttercream Frosted Sugar Cookie
Buttercream Frosted Chocolate Sugar Cookie
Pink Champagne with Champagne Buttercream
Frosted Lemon
Mini 2"
Only available for Buttercream Frosted, Chocolate Frosted, Lemon and Champagne.

Regular 3" Unwrapped

Regular 3" Individually Packaged
For favors or takeaways.
Only available for Sparkle & Chocolate Sparkle

Cookie Pops
Only available for Sparkle, Chocolate and Champagne.
IMPORTANT NOTE: Cookie Pops are NOT RECOMMENDED for outdoor events. They will melt in excessive heat.
A minimum of 36 are required for each flavor + option.
Available in sets of 12 after the initial 36.
Reserve your pick up or delivery date & time during checkout.
By default, cookies will be delivered in boxes for you to set out for your event. If you require additional set up assistance, servingware, trays, etc., please reach out and we will be happy to discuss options and pricing further.
If you have additional requests, questions, or needs, please contact Stacy: stacy@sunflowerhousecookies.com or 402-499-6928.
Payment is due on booking for all orders. Cancellations are not accepted within 7 days of due date.
Special offer for Engagement Parties, Showers & Bachelorette
We've put together a special package exclusively for any pre-nuptial events that will be part of your big day! Whether it's an engagement party, a wedding shower, or the bachelorette party – this pack of cookies is a great choice for treats!
Choose from our mini cookie variety pack, cookie pops, or the package with both! Prices range from $50-$100.
Order Now
questions? special requests?
Contact Stacy: 402-499-6928 | stacy@sunflowerhousecookies.com